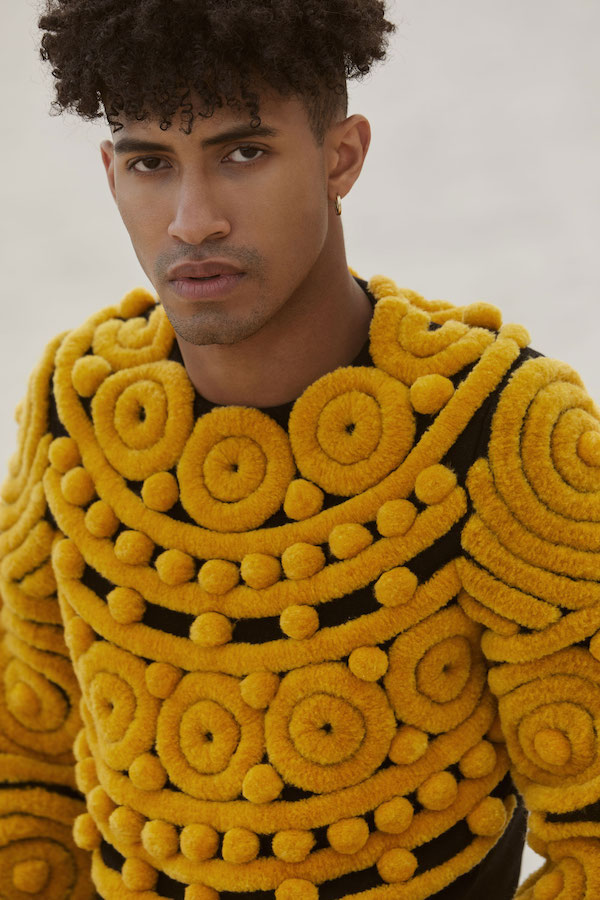 The first journey…
I was profoundly marked by Brittany, which reminds me of the Pyrenees due to its unique energies, where I grew up, and possesses captivating authenticity. This is where the journey begins.
This letter (in the form of a Newsletter) is an introduction to the work, to the know-how of Mathias Ouvrard, A visual and textile artist.
I discovered his work through an exhibition, which was held at Pont l'Abbé.
His creations touched me at once. They triggered an incredible feeling, a sense of wonder. I wanted to find out more, get to know the Artist, the know-how that allowed him to achieve and materialize his ideas.
Mathias' creations unveil harmonious movements, pursuits of perfection, not to mention, the Beautiful.
His detailed attention while choosing bright, luminous colors reminds me of the colorful aesthetic universe of Carré Royal.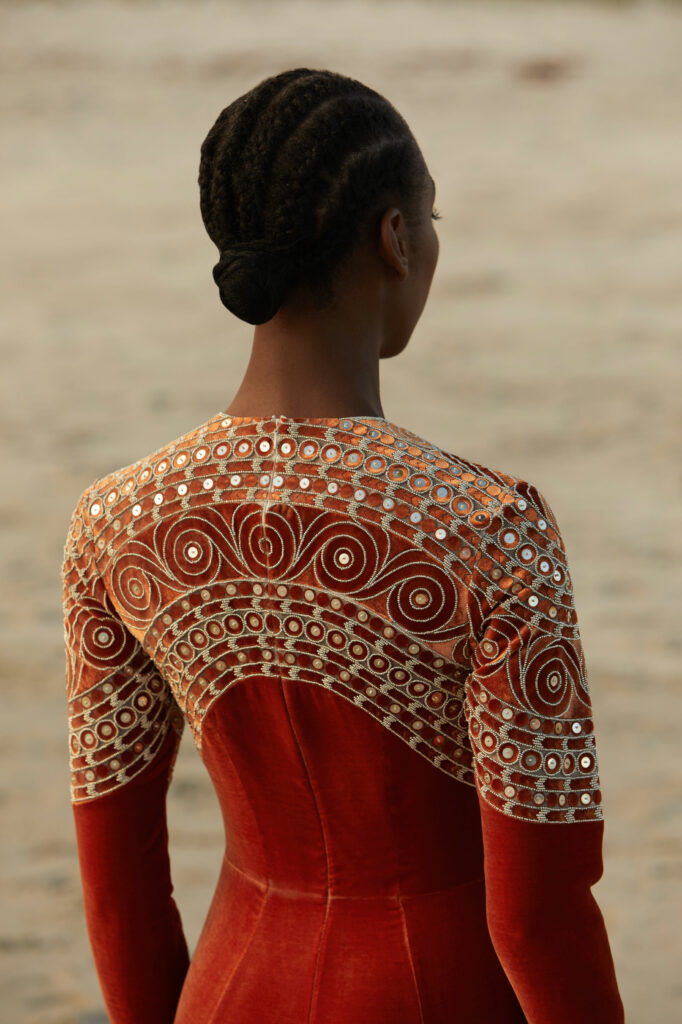 A visual artist
Mathias is a visual artist and a textile artist. He began to learn embroidery at the age of 14, and continued his training at the Ecole Duperré, in the textile arts industry, in Paris, before returning to Brittany.
He was a member of the group Eostiged ar Stangala for a long time (Les Rossignols de Stangala), a traditional dance group which had been established in Quimper since 1948. He was able to intensify his knowledge within this group, of sewing on traditional clothes.
He is 32 today and creates decorations for shops, interiors, clothes, ornaments, velvet mosaics.
Textile know-how
Mathias works with different materials, mainly velvet and paper. He likes to explore these materials, to analyze the effects that light can produce on them.
He uses several techniques:
Crochet de Lunéville (Luneville hook): a tool used by Haute Couture designers,
Hand embroidery techniques.
The images within this letter present creations using velvet, mainly.
Mathias talks about how he relies on ornaments, old patterns, traditional patterns, the know-how which has been eternalized by the clothing workshops of the territory.
He also likes to experiment, tries to develop new techniques to achieve the desired effect.
He is also interested in the reactions of velvet in regard to light and changing surfaces. His quest reminds me of the one that stimulates Carré Royal: the search for Harmony through Creativity and studied Simplicity.
He draws inspiration from traditional Breton costumes, in particular the Bigoudène and Glazik fashions (from Quimper and its nearby towns). He has studied a lot and continues to study these traditions.
Mathias Ouvrard has acquired or developed his creativity, know-how over time, and contributes to deploying and continuing these textile traditions. It is like a beautiful contribution to the Breton aesthetic heritage, but also to its culture.
I invite you to discover Mathias' Instagram page: @mathiasouvrard
or his website: www.MathiasOuvrard.com.
The photographs in this letter and on our Instagram, Facebook and Youtubepages are taken by Charlaine Croguennec.
To learn more about this letter and its author, I invite you to visit our Carré Royal Letters page. My letters will be sent to you twice a month.
If you liked this letter, please share it.
Pascal,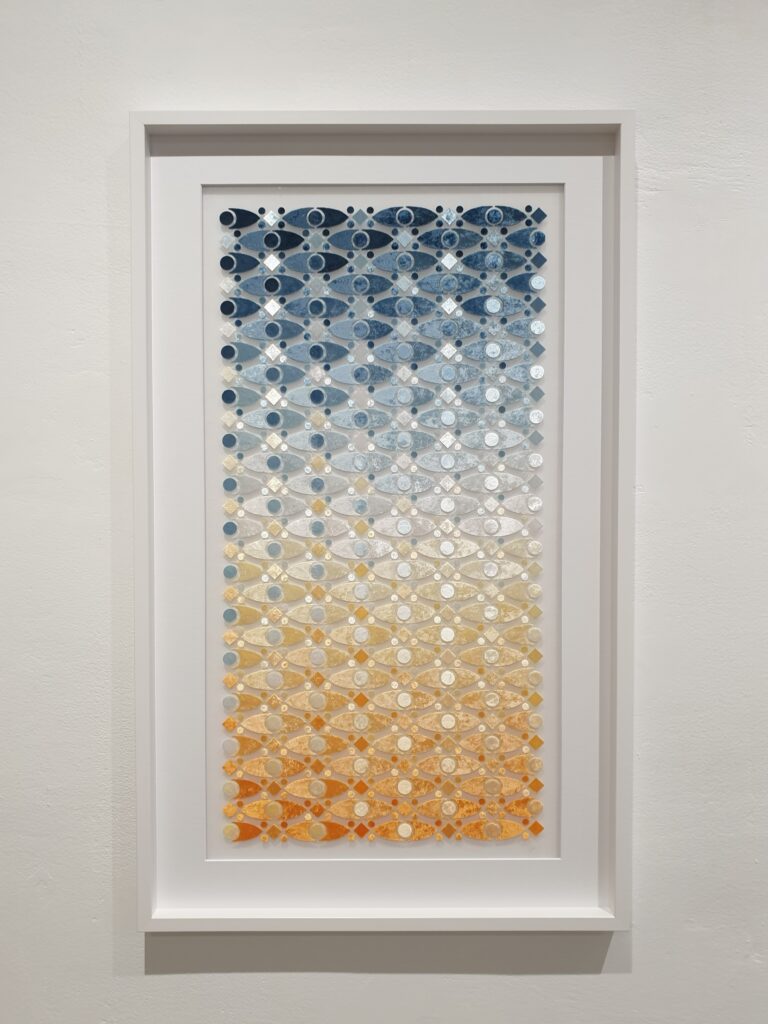 Some works by Mathias Ouvrard are currently visible in this Museum.
The Museum is in Quimper, in the former Episcopal Palace of Cornouaille. Its collection presents a wide variety of Breton works (paintings, stained glass, costumes, earthenware, etc.).
The city of Quimper, City of Art, and History is remarkable through its Saint Corentin Cathedral (in the Gothic style), its residences from the 16th and 17th centuries. Strolling through the streets, I was often "captured" by the architectural style of the city, the color of the half-timbered houses, the presence of granite, the bedrock of Brittany.
From Quimper, I like to go to Pointe du Raz, and gaze at the ocean.
The Irvi album and mainly Gortoz a ran (J'attends: I'm waiting), Ar Mab-Laer (Le fils voleu: The thief son), Melezouriou-Glav (Miroirs de pluie: Rain mirrors) by Denez Prigent, often accompanies me on my travels, in Brittany or elsewhere.
I happened to listen to them in loop. I do not understand the Breton language but find the songs by Denez Prigent are really meaningful. They are with the Works of Mathias Ouvrard, gateways to the Brittany that I love.
To know more about our colorful collections please visit Our collections