Letters on know-how and creativity
These letters (in the form of newsletters) emerged through my passion for Carré Royal, its aesthetic universe, finest materials, but also daily creation.
I felt like sharing my revelations, that I came across during my many travels, with you.
I have travelled across France, meeting creators, producers (fabrics, leather, metallic and paper pieces), and boutiques and partners.
During these journeys, I also had the opportunity to discover a lot of know-how, exceptional places (due to their beauty, history) and to meeting people who passionately feel about their art, professions, territories and are carried away through their desire for excellence.
One of the vocations of Carré Royal is to accompany every individual's creativity. According to me, this creativity is one of the paths that leads towards the better side of oneself.
I felt like highlighting the intelligence of the hand, which contributes to preserving our history, our heritage and preparing creations, but also the dynamism of the future.
Through these letters, travel notes, I wish to express my curiosity to you. They'll undoubtedly be portrayed in the form of a joyful patchwork, at the whim of my stopovers in a French city, village, and a countryside.
I will share my impressions, feelings, perhaps even my awe while I came across these landscapes, elegance, colours, structures, artworks or simply while facing Beauty and Harmony.
Links and suggestions which at times won't have much in common.
I also wish to insert offset suggestions, concerning readings, podcasts, current music, heard on the road, places. Of course, all this doesn't possess a scholarly aim.
At times, I like to jot down elements in notebooks, but mostly on sheets of paper.
I sincerely hope that you'll be receiving these letters at a regular pace, twice a month.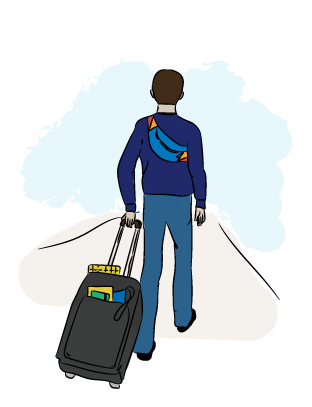 Drawing credit: Sharon Lim Sautarel
Who am I?
I am passionate about fine materials, which are deeply rooted within our territories, traditions, know-how, colours, Art, and History.
I discovered the universe of leatherwork, due to a luxury industrialist, who gave me a leg up, 15 years ago.
I took over the Carré Royal brand 10 years ago to pursue a know-how and create aesthetic works.
While growing up in the Pyrenees, surrounded by splendid mother nature, I got the opportunity to travel at a very early age.
Today, I pursue this discovery of meeting talented beings, exceptional works, and magical places.
My favourite accessories: wallets, belt bags, laptops from Carré Royal and my Yoga mat…and a suitcase of my collections and reading material.